Warning :: the hackathon organized by Persée took place from 1st to 3rd June 2018 at the Web Tower in Lyon. This page is only intended to present the event and its results.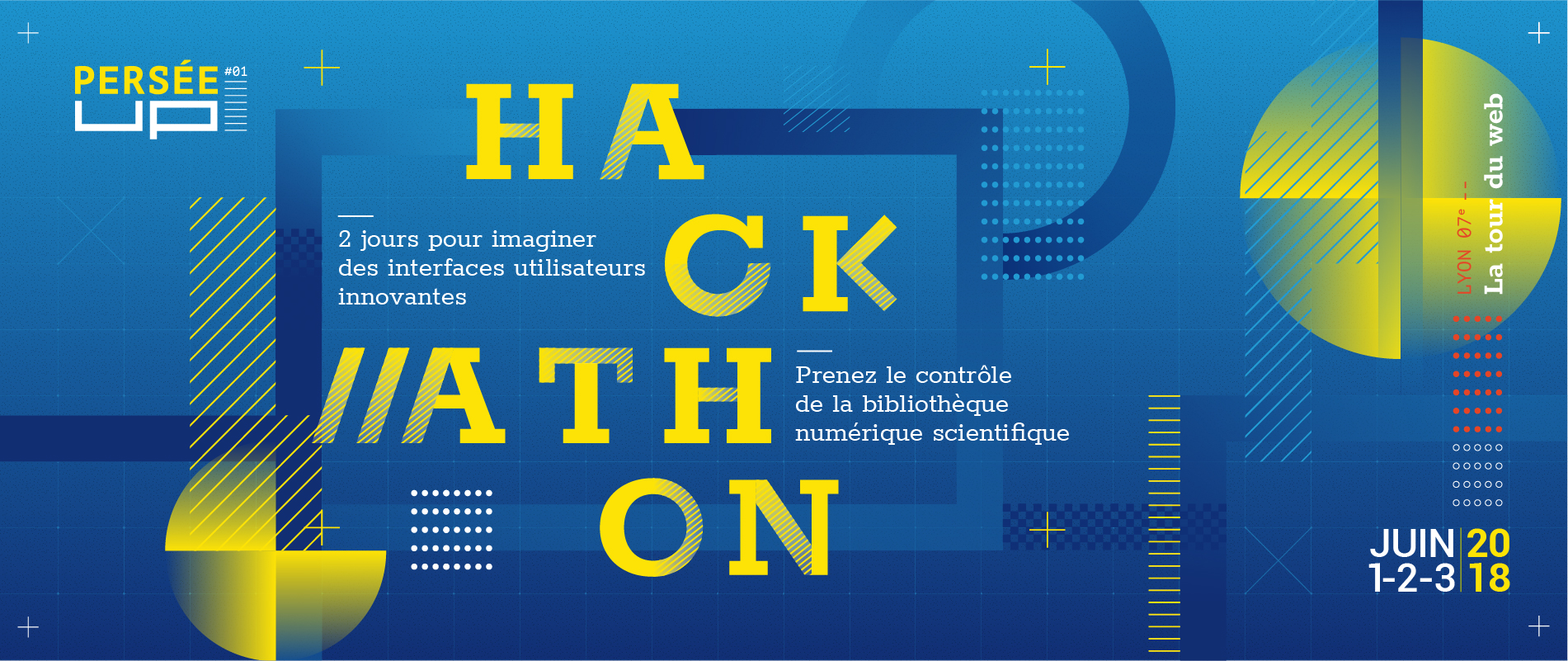 LE HACKATHON
in a few words
As part of the OFF of the Web Conference held in Lyon this year,
Persée is organizing on June 1, 2 and 3, 2018 his 1st hackathon around the question :
"What innovative responses can be made to the specific problems of researchers and users when browsing and consulting a digital library?"
For 48 hours, 5 multidisciplinary teams around 3 challenges will invent new ways to navigate, explore, visualize the data and documents distributed on the Persée portal!
The Persée data made available for the hackathon is available via the triplestore >> data.persee.fr
Type of data to download:
Other data will be made available gradually, stay connected!
June 1, 2018

June 2, 2018

June 3, 2018

Scientific day

Hackathon

Hackathon

Morning

9:00 am: Welcome

9:30 - 10:15am : The analysis of networks in Egyptology: challenges and constraints by Vincent Chollier (doctor in Egyptology, associate researcher at the HiSoMA UMR 5189 Laboratory
)

The "network" is a polysemic concept widely used in the human and social sciences, especially in History. Prosopography is especially suitable for its use: "family network", "power network", "influence network", etc. But Social Network Analysis refers to the particular field of study of sociology, which emerged in the 1960s and 1970s, with its vocabulary and methods. It is largely based on graph theory, the most common type of network structure. How to identify a network? How to model it? What can we learn from his analysis? In this paper, we propose to explore the possibilities offered by the methods of Social Network Analysis, which make it possible to deepen research on ancient societies, despite the constraints inherent to the subject under study.

10:30 - 11:15am : Visual Network Analysis by Tommaso Venturini (Invited researcher @ médialab Sciences Po Paris and INRIA Advanced Research Fellow)
Networks are, without a doubt, powerful mathematical objects. And yet networks cannot be reduced to the properties of their adjacency matrix. Networks are also extremely rich visual diagrams and narrative devices. In this presentation, we will discuss these often overlooked properties and suggest some practical ways to visually explore networks.

11:30 - 12:15am: Data Visualization Design Methodologies: Design Studies and Rapid Prototyping by Romain Vuillemot (Teacher-Researcher, 
Ecole centrale de Lyon)
I will present methods and case studies of data visualization design. In particular, rapid prototyping methods and design studies to quickly generate ideas, communicate them, validate and iterate on them. I will then present the main tools and programming languages used to transform the models into high-resolution interactive visualization, especially for the web using D3.js.


Afternoon

2pm - 2:15pm  : Introduction,
Nathalie Fargier, Director of Persée
2:15pm - 2:45pm : Presentation of Persée portal, Hélène Bégnis and Emilie Paget
2:45 - 3:15pm : Presentation of the documentary typologies and the organisation of the collections,
Thomas Mansier
3:15pm - 3:45 pm: Presentation of Persée triplestore, Cécile Almonté
3:45pm - 4:15pm : Présentation of the data models, Viviane Boulétreau

Hackathon

Afternoon

4:30pm : Introduction, presentation of challenges, data, mentors and agenda

5:30pm : Ideation phase around the challenges, pitch of the first ideas

6:30pm : Team building and definition of each team's work focus

7:30pm : Launch cocktail

Morning

9:00 am: Welcome, breakfast

9:30 - 12:30am : Working with facilitators

12:30am - 1:30pm : Meals

Afternoon

1:30pm - 5:30pm : Working with facilitators

5:30pm - 6pm : Pitch rehearsal with the facilitators

6pm - 7pm : Pitch in front of the participants

7h30pm : Night work for those who wish to do so

Morning

9:00 am: Welcome, breakfast

9:30 - 12:30am : Working with facilitators

12:30am - 1:30pm : Meals

Afternoon

1:30pm : Crash-test

2:30pm : Finalization of prototypes

4pm : Presentation of prototypes, deliberation

5:30pm : Closing cocktail
REGISTER NOW !
Join us to take control of the Persée Digital Science Library
Access to the site
Metro B Jean Macé (then 8 min. by foot)
Metro A Perrache (then 10 min. by foot)
Tram T1 Quai Claude Bernard (then 5 min. on foot)
Tram T2 Centre Berthelot (then 1 min. by foot)
On the spot
On-site catering throughout the hackathon
Possibility to sleep on site
Participants must come with their computer equipment
Wifi terminals are deployed
PORTRAITS OF PARTICIPANTS IN PICTURES